Ahhh, Illinois! The land of Lincoln, the heart of the midwest, home state of the third largest city in the country, (Chicago). It has Lake Michigan to the northeast, the Mississippi River to the west, Ohio River making up the southern border. Its the flat lands, the prairie state.
I grew up in northern Illinois and having family all over the northern part of the state, that being said, I am actually a fan, love Chicago and have met a lot of great people not excluding a lot of relatives.
The State of Illinois has a some good points! I have already mentioned the city of Chicago which gave us the historic Chicago Cubs, a baseball legend, the Chicago Blackhawks, several museums, restaurants and other attractions...did a mention Chicago deep dish pizza? Six Flags amusement park is up north just south of the state line making it accessible to the Wisconsin area too. Illinois gave us great presidents such as Abraham Lincoln, Ronald Reagan and other presidents like Ulysses S. Grant and Barack Obama.
The state is also responsible for some tasty snacks that a lot of us adore...Twinkies, Ole Salty's, Fisher's nuts , Mrs. Mike's potato chips, Tootsie Rolls, Sara Lee, Wrigley's gum, Dove ice Cream bars, Eli's Cheesecake, Brach's candies to name a few. Good stuff!
Now with all that positive stuff being said, you knew I would be getting to the other side of coin didn't you?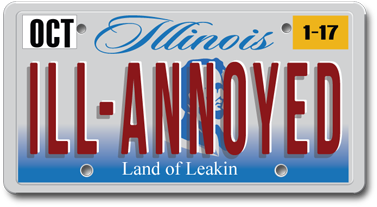 Have you ever driven through the state of Illinois? A lot of us have. Going somewhere in the state or to other destinations for business, vacations and other travel, one must experience the Illinois Tollway system. Really, is pretty efficient, that is if you have an I-pass transponder, otherwise you will have to wait in long lines at the pay toll. I once had to be forced into the cash line while they were "metering" the I-pass lanes and had to wait about a half hour in line...annoyed.
Oh, and Illinois state as a whole has a few negatives too. You might not be happy to hear the the state is the 2nd to last in the union in fiscal health, which also makes it the 2nd to worst run state by default and the very last state, oops, excuse me, the 49th state to conduct business, Actually 1 out 4 Illinois residents dislike the state and would rather live elsewhere....annoying.
Illinois comes in as last of all our states for having access to child care for working families.
Did you know that there have been four Illinois governors who have served time in jail for corruption in office....annoyed!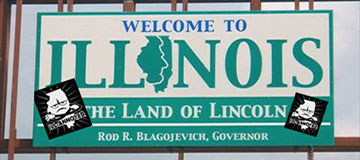 In preparing this blog I asked some folks I know from Illinois what their biggest peeve was, one lady told me it's that the fact that there is Chicago and then the rest of the state, as if the city was a separate entity...annoying!
Illinois' schools have the biggest gap for funding as well. Not having a state budget for over two years hasn't helped either. With no budget even the roads themselves are suffering, its estimated that 65% of Illinois roads are just OK.
Illinois is the worst place to be a taxpayer, Illinois taxpayers give up 2.5 times more than people with the least tax obligations...very annoyed!

If you live in Illinois there is only one way, UP! Things have got to get better from here! If you are from another state like Wisconsin, Iowa, Indiana or Missouri, well you may have your own problems, but please keep all the Illinois folks in your thoughts. Maybe I should have started with the negative and finished with the positive....what do you think?
Please leave a comment!